From entrepreneurs to Fortune 500 companies, everyone wants to improve their conversion rate. However, to actually be successful at this, you have to actually properly identify the obstacles that are deterring you from converting more consumers and make improvements.
Sounds easy, right?
Well, if you think so, you'd be mistaken. Achieving the perfect conversion rate is the Da Vinci code of internet marketing. It requires a lot of patience and time to optimize your website so it can become the perfect funnel for incoming leads.
Fortunately, I'm going to save you a lot of time by giving you three proven ways you can boost your site's conversion rate and gradually increase your online revenue.
1. Enhance Your Site's Personalization
A boring and useless website is. . . well, boring and useless. However, many businesses don't fully grasp this concept. If your website isn't personalized specifically for each individual lead, then you're completely missing the mark.
According to a report from Forrester, 68% of businesses have made personalizing web experiences a top priority. So, what does this exactly mean? Let's look at one example.
Have you ever visited a website and kept getting pop-ups encouraging you to sign up for their newsletter or buy their product?
I have and this is very frustrating. These pop-ups, at the wrong time, can send your prospects straight to your competitors. However, if you personalize your pop-ups a bit more, they can actually be effective tools for increasing your conversions.
For example, if one of your site visitors attempts to leave your site, you can utilize an exit intent pop-up to retain them and make them more likely to do business with you.
Take a look.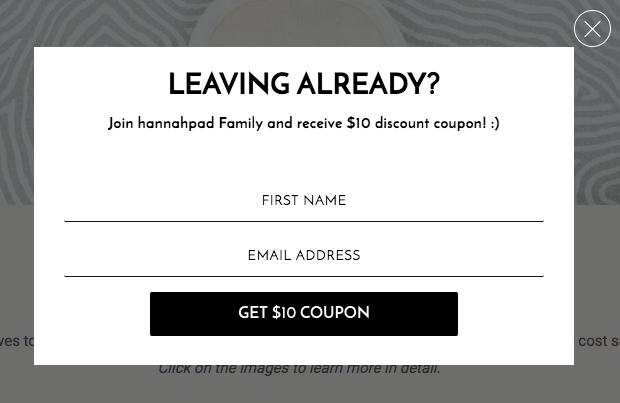 As you can see, this pop-up is more personalized to make a site visitor think twice before leaving your website, and even if they do leave and fill out the form, you'll still gain their email address to reach back out to them.
2. Perform Regular A/B Tests
Performing experiences reduces the risks of making guesses about your site. If you can conduct an A/B test that proves that a certain landing page layout is more effective at increasing conversions than your original one, then you're basically on track to capturing more leads.
If you want to begin making your own experiments, here are some areas you should focus your testing on.
Pricing – The prices of your products or services may be too high, or even low, to encourage a prospect to make a purchase.
Headlines – Your current headline may not be convincing enough. You can try rewriting different versions of your headlines to see a noticeable change in results.
Offers – Do your prospects like you talking about your products or services a certain way, or do they prefer purchasing in a bundle. You'll never know if you don't test.
3. Remove all Obstacles
If you're running an online business, then you're going to just have to accept the fact that your prospects will always be skeptical when doing business with you. This cynicism can stem from them having to give their money to a complete stranger or them having a lot of other options to choose from online.
Whatever the case may be, it's important for your website to convince your prospects that you hold the keys to the solution to their problem or desire. For example, if a potential customer is worried about the prices you have, create a price comparison chart on your site to show them that your products are ideal for their budget.
If a potential customer is worried that your service won't work for them, add a testimonials section to your site to show them otherwise. Overall, you'll need to remove any doubts and obstacles from the minds of your prospects in order to make them feel more comfortable doing business with you – thus increasing your conversion rate.